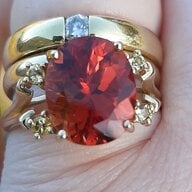 Joined

Jan 3, 2020
Messages

1,112
Hi everyone

@missy
Continued thoughts with you, Greg and family. Purrs and chin scratches to Tommy. I hear your concerns about the funeral arrangements and I would feel the same. Thinking of you, just stay safe and try to do what you can to reduce risk. Any more results back yet for Tommy?
@marcy
This is what I am concerned about when my hubbie goes back to work. We are also in a part of the UK that is seeing a spike in cases! It's a worry.
@Slick1
Hi, thanks for asking after my son! Teacher visits are going well and we are visiting the outside forest area of his new school next monday.
@Austina
Happy belated Birthday. Sorry I am a bit tardy. Hope you are ok. That bracelet really is very lovely!
Hi to everyone and keeping you all in my thoughts. Sharing some pics from my wildflower garden! xxx