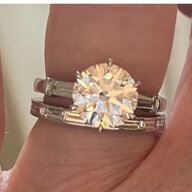 Joined

Mar 31, 2018
Messages

7,369
@missy
How did it go with the PT today? I don't blame Greg for being a little firm with him...I asked my friend about it because she had PT for her knee..She said she cried during the sessions..and would yell at the PT to stop. The therapist explained that it was going to hurt worse during and after the session but it was necessary. My friend apologized to her afterwards..and the PT said they were use to it..She said she knew that she was making her hurt more..but it was important so she would regain the motion in her knee..I'm not saying this is true in Greg's case..but I thought I would mention what my friend told me. I hope it didn't hurt as much this time.
Ollie does have the face that says he's cooking up something. I would take Tommy and Bobby in your bedroom at night and leave Ollie outside the closed door..

@Jimmianne
I still don't know if you're still in France...If you're not I have no idea where you are either!

BTW Kate and I are around the same age..I'm married..I live in Pa but have a house in Maryland that we go to pretty much every other weekend. I have three sons..all adults...Chris is the oldest...Scott is the middle guy.He's married to Allie..I have one grandchild who is two years old and she's expecting another baby in June. My youngest has Autism...and the love of my life...I also have an 11 year old dog I rescued from the carcass of a cow in Missouri when he was three months old! Oh..I forgot my mother! Haha! She's 94 and lives with me.. Your turn!
Last edited: