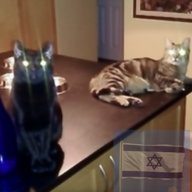 Joined

Jun 8, 2008
Messages

27,842
Good morning
Jimmianne
! Cannot wait to chat more and hear all about your beautiful adventures at your new French estate.

Safe travels home sweetie!!!
Marcy
so glad you enjoyed Marty's friend's visit and he sounds quite interesting. Yes this weekend is more about Marty than you for sure but glad he is returning relatively soon from his business trip so it won't be a long time without him to entertain you. In the meantime we are here and I know you are quite capable of entertaining yourself.
I know your chocolate chip cookies are irresistible and glad you were able to share the delicious treat.
Thank you and the other girls who were available for keeping me company yesterday. And for being so supportive and wonderful. I have lots of pics to share from yesterday's adventure that not everyone got to see.
Greg and I went for the tandem trike fitting yesterday and the owner delivered it to us personally that evening after he was done with work for the day. Yay for good service! It was an enjoyable and long day. In the AM and early afternoon Greg and I were at the trike shop getting fitted and trying out our new tandem trike for about 3 and a half hours. The bike shop guys said I livened the place up. But of course.

We then went back home to the beach house and went for a ride on Calfee for a few hours as it wasn't too hot and we did the trail ride that was under tree coverage mostly. So remained relatively cool. Got back home and showered and then Laurie the trike shop owner delivered the new bike to us that evening as he doesn't live far from us. He stayed about 2 hours LOL. We had a productive day. OK enough chatting and onto the photos. Hope you enjoy!
First up a fire shot of Bea in the car going to the trike shop in the late AM. Marcy pointed out it looks like a kitty cat and she is right! LOL.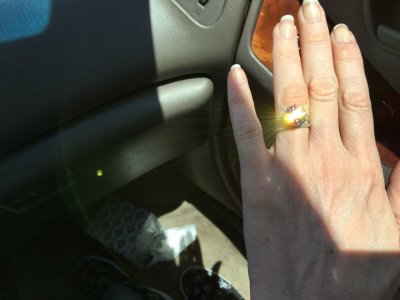 and I wore my "bike" shoes. LOL I got them a while ago but never wore them. They are not bike shoes really but see how cute the bicycles are on them? I got Greg a pair too.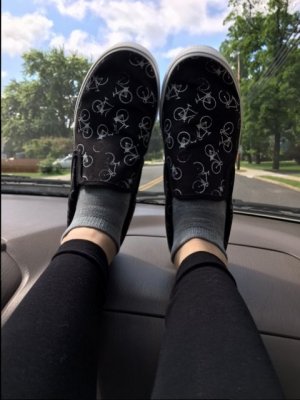 Photos of the terra trike when we arrived at the bike shop 90 minutes later.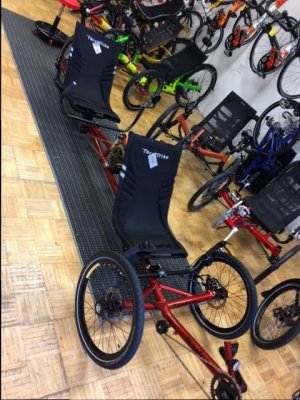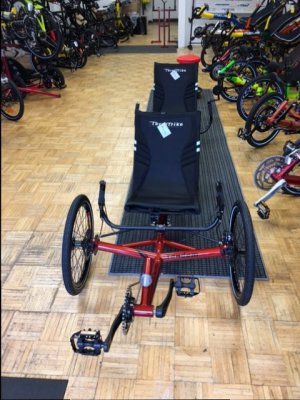 Greg with the owner Laurie.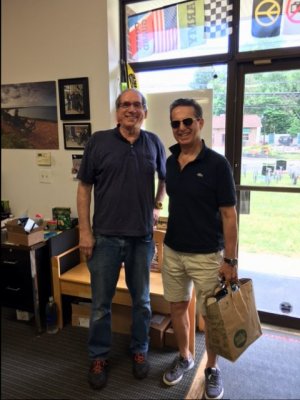 Our first spin during our terratrike test drive around the bike shop neighborhood.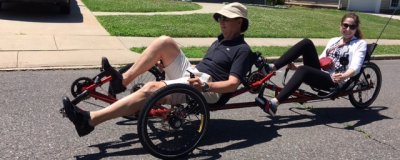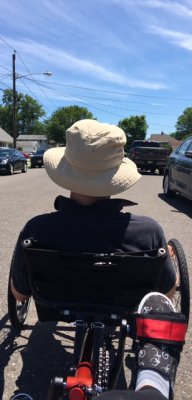 Greg went on a single trike test drive afterwards and he said our tandem trike was much smoother a ride and he preferred the tandem trike. Woohoo lucky for me!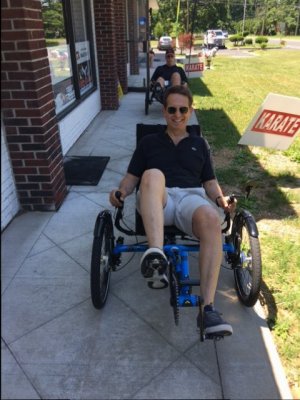 Showing Greg and Larry (not to be confused with Laurie the owner...Larry is going to take over when Laurie retires but right now Larry is doing an apprenticeship with Laurie and he was the one who fitted us to the bike or should I say fitted the bike to us!).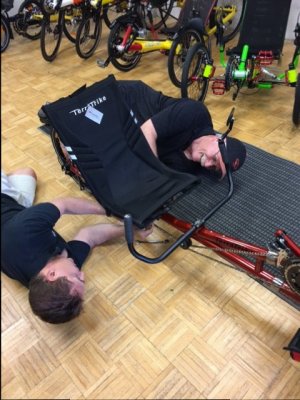 The flag I chose. Pricey accessories is all I will comment on that.
Can you see the bicycles on the flag?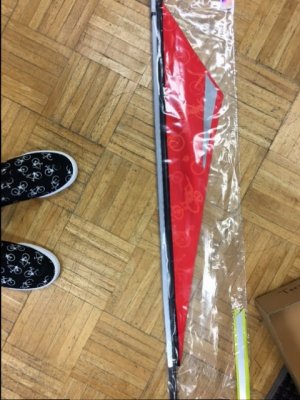 Photos continued next post as I have reached the photo limit one can post in a single post...