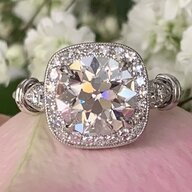 Joined

Jan 11, 2006
Messages

55,746
Date: 2/8/2007 7:39:29 PM
Author: Garry H (Cut Nut)

Sorry to hear the prob''s Gypsy - I can see where he is vcoming from as an employer of 6 bench jewellers.

We have extremely fussy clients from time to time, and on rare occasions i have stepped in and asked if the client wants ''design award'' finish which is judged by our peers to be flawless and should hold up to 5x magnification. This can cost 2 times more depending on the piece. I have only seen 1 MM piece and it was not that quality - but it was a top commercial finish.

The trouble is when you are in that position t is almost a challenge to the client to find the flaw - so i usually also step in over the staff who are working with the cleint and demand design changes that avoid hard to get to crevices etc.

BTW someone referred to Mark as a Pricescope jeweller - I do not believe MM has ever advertised here on Pricescope - but he obviously benefits financially and also from the wonderful designs that come his way from the resourceful Pscope family.
His site is on this page; is this a free listing?
https://www.pricescope.com/designers.aspx