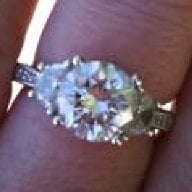 Joined

Jun 18, 2010
Messages

5,765
I'm still on the "toddlers are harder" train. Today is my first day back at work. The week days were pretty easy when it was just T- TV watching, naps, no problem. With B around it is so much harder. The energy level is just exhausting and nonstop. If a wrecking ball and the Tasmanian devil had a baby, it would be B.

I was almost happy to return to work today. I got to go to the bathroom when I wanted! I am sitting here pumping in silence! I haven't been "alone" for this long in 8 weeks.

BTW, I hate pumping. DH and I agreed I would BF for 12 weeks (it's really important to him), so I've got 4 weeks to go. I hate having to live my life in 3-4 hour increments.