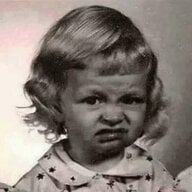 Joined

Jun 27, 2014
Messages

3,016
I received the ring today and, my goodness, I'm at a loss for words. Even though the stones are vastly different hues, they both have a warm sparkle that compliments one another. It's difficult to explain. I tried to snap some quick pix as the sun was going down. They're terrible... I'm sorry. That's why I never share my own photos.

I have the ring on my forefinger to try and show it off best. But I will wear it on my ring finger.

I neglected to clean a fingerprint off before this one. I'm hopeless!

Blurry as all get out...

In focus, but... you like my donut dress? lol

Table glare! The end.
Annnd they're still better than my pictures

I think it's smashing! Smashing, I say!
(hear that in Mr. Toad, will ya?)