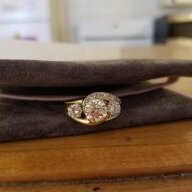 Joined

Jan 15, 2014
Messages

333
It happened! I got engaged this weekend. Woo!!!
We went on a small nature trail by the beach, up on to the cliffs and we ended up stopping under a grove of trees. I was reading the little sign that explained about the trees and I saw him go down on one knees. Funnily enough, I have zero memory of saying yes but apparently I did. So we got to tell everyone and everyone was really positive. I have two sisters and one instantly cried and the other one made fake vomiting noises, so that was pretty funny. And we set our date for next year, on our 10 year anniversary.
We are both a little stressed though. I mean at one point, his family was asking what the venue was and what the dress would look like and what our colors were and we had only been engaged for 4 hours.
So while I know I need to do research on venues and stuff, I'm putting it off so we can just enjoy being engaged for a little while.