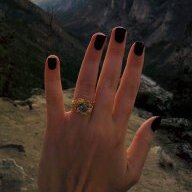 Joined

Jan 29, 2016
Messages

159
It sounds absolutely STUNNING!!!! Did you have to order it or could you get it off the rack? Good luck with the guest list... I have to admit that the guest list has definitely been the hardest and most frustrating part of the wedding planning.
We ended up not doing a ring for me and I just got him a plain titanium band. Have you and your FI figured out rings yet?
Everything is finally falling into place. I just finished my MOH and my jewelry, I got my finished dress back last week, cake is finalized... we just need to get stuff for favors and put them together (We're doing smore kits and flashlights plus maybe a little sapphire "mining") We need to figure out which cabin the few people who are staying the weekend will be in, get food/drinks/ etc for the weekend, finalize the guest list and the catering for the Day, clean my house for company (my mom's coming out a week early), get gravel for my centerpieces, make the centerpieces when we get the flowers in like two days before the wedding, pick wildflowers, figure out what i'm going to do with my hair, bake cookies.... just millions and millions of little things that you don't realize you need to do until you need to be doing them lol... Plus on top of that I've lost about 20 lbs, have been eating next to nothing, working out twice a day, and have been stressing out about everything like crazy... My poor FI, he's been such a saint through all of it! I kind of wish we'd eloped but then I look at my dress and realize that ultimately this wedding is exactly what I want, it will be beautiful and totally worth it
I'm SO FREAKING EXCITED!!!