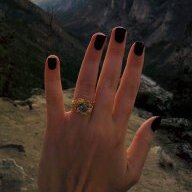 Joined

Jan 29, 2016
Messages

159
Hey Ladies!
Wondering if anyone has any updates?? Ariadne, how's your ring coming? Any word if it's back from the jeweler yet? how are all of your events that you have coming up this month?
Things are pretty normal on this end. Did a little bit of fixing and carving on my wax and I think the ring is OFFICALLY ready for casting. My boss is back from vacation, she just needs the stone. I've been trying not to bug my BF about bringing it over there, but we need it to make sure everything looks right and fits before we actually cast in gold. Hopefully my boss is lighting a fire under his behind to bring it in!!!
I've been starting to get anxious about getting married again... Yesterday was my little sister's 7th wedding anniversary (they got married very young) and I showed my BF a few pictures.... and he asked if I was going to make him wear an "ugly white tux" like what my brother in law wore, and I was like "well, hypothetically, as long as you show up I really don't care as long as it's clean" lol... He said he'd probably just consult my dad when that time comes. My parents are coming to visit us for two weeks at the end of this month. I'm pretty sure that my BF and my dad are going to have THAT important discussion, but I'm kind of starting to feel over all of the secretiveness. I really want to have open conversations about what our plans might be because my parents and I are going to be cruising around the area where we think we might like to get married. I would love to actually be able to look at things as possible wedding venues and to get information on that kind of stuff without feeling like a crazy obsessed girlfriend, but he kind of made me promise not to talk about wedding stuff until we are formally engaged.


Anyone else know what I mean? It's kind of frustrating....