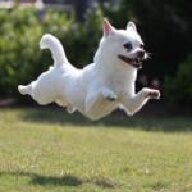 Joined

Jan 21, 2011
Messages

199
Last week, I made a post about my non certified side stones. You can read the full story on the link below.
[URL='https://www.pricescope.com/community/threads/need-honest-opinions-and-advice-am-i-crazy.160511/']https://www.pricescope.com/community/threads/need-honest-opinions-and-advice-am-i-crazy.160511/
[/URL]
To summarize, the jeweler originally told me that they would match my center which is G VS1 with G VS2 sides. I had an appraiser evaluate it last week and he felt that I had 1- F SI2 and 1- H SI2. I contacted the jeweler and he swore he didn't use diamonds with 3 color grades difference and better than SI2's. I have noticed one displays a slight nuance in some lighting, slightly darker in other lighting, or all three look completely white. I think he may have used G and H or perhaps 2- G's but one just runs at the lower gamut. (Yes, to my misfortune, I am color sensitive.) While I can't see inclusions with my naked eye, each have a rather larger feather. On one, it appears to run from the tip of the girdle to the bottom part of the table and almost to the surface.
So, after discussing it with my sweetie, I called up the jeweler to see if they had anything else. He suggested looking for certified stones as replacements. He said this way there is no doubt of the quality and the appraiser cannot dispute GIA certified stones. I agreed so they looked at their inventory and sources. I also looked at PS and found there is a limited amount of available ovals in the size needed. So, after searching for a couple of days, they felt the best match for my center would be .29 D SI1 and .29 E SI1. Their proportions are almost identical and the length to width ratio is close to the center. They are both 1.40 and my center is 1.42. They would seem like a really good match with the exception of the variation in color.When I expressed my concern, the jeweler ensured me that my center was white so the there would not be a noticeable difference. (Note: I did have a couple of jewelers tell me they thought my center was better than G and the appraiser said it was a "high" G. So, I take it my center looks more like a F. )
Do you think they are right? Will the difference be noticeable?
And before you ask, we did look at the available F-G's and I was even considering paying the premium for some VVS1 because there were more available in the higher clarity. However, we could never find good mates.