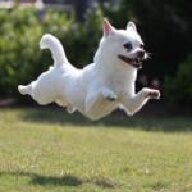 Joined

Jan 21, 2011
Messages

199
So, my BF (or now FH) finally proposed and gave me my ER. It is a very pretty 3 stone oval in a platinum trellis. I searched high and low for my center which is a knockout 1.07 ct G VS1 and an excellent cut. I've been told by a couple of jewelers and the appraiser that it is a "high" G. So, the jeweler originally told me they were going to match the center with G VS stones. Well, that sounded too good to be true. Well, it was ....but they swore they would do an excellent job matching the color and brilliance of the center. So, I was never told what they were going to put in. The appraiser just told me that I have 1 F SI2 and 1 H SI2.
So, I'm no where near the original quote for matching stones. I was disappointed when the appraiser gave his assessment. Even accepting the fact they are not G VS as originally told, shouldn't the sides be the same such as 2 - F SI2?
Looking at the ring, it's super sparkly. In almost all lighting, all 3 stones look very white. The H stone only shows the slightest tint in a couple lighting conditions and you have to be close up, staring at it. I can see it in my office but my office has soft yellow walls so it kind of gives the entire ring a bit of yellow tint. The other is when the sun casts a strong yellow/ orange. Again, it gives all three stones a bit of yellow tint. You can see the H is a tad darker.
Am I crazy? Or am I too hung up on diamond specs? Would you have an issue with the side stones being different colors and SI2?
My sweetie was a little disappointed too but he said it is a pretty ring. Looking at it, you can't tell what the color and clarity the sides are....it just looks sparkly. He said it was my decision on whether or not to give it back to the jeweler but there was no guarantee that it would look any better or the setting wouldn't be damaged in the process. He has a point.
I have some really nice photos I took over the weekend but they're on my FH's laptop. I'll post those later. For now, I took a couple of quick pics in my office.
Tell me what you guys think.