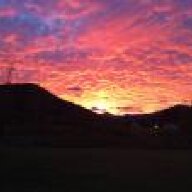 Joined

Oct 17, 2015
Messages

24
Hello everyone!!
I am new to pricescope. From what I have seen you all seem to have so much knowledge to share. I was hoping maybe you could all help me out. My boyfriend and I celebrated our 6 year anniversary this past August and we went to check out engagement rings. After a few months of him searching on his own for a center stone he decided to allow me to help him look. We finally found a center stone. I am pretty non-traditional so we went with a teal-blue Montana sapphire. The color seems to change pretty drastically in various lights and fortunately I love all the color changes this stone seems to undergo. We were always going with a white gold or platinum setting with a halo and a paved(?) band more on the delicate side in terms of I guess the thickness of the halo and band if that makes sense. And then he hit me with this game changer.
I have always been a huge fan of white gold and platinum. And while I also like yellow gold I just never envisioned it for my engagement ring. I have always been pretty sold on white gold or platinum. However, I am also fairly obsessed with rose gold but I only had ever really considered it when I was looking at peachy colored sapphires and morganite. I had never considered it for a Montana sapphire. But my boyfriend is super into rose gold all of a sudden so I started looking into it with sapphires. He seems to be leaning towards it but definitely wants my approval first. And I have to say it's starting to grow on me. But it's so hard because I don't know what my exact stone would look like with rose gold it seems so risky. It's so much harder for me to picture. I haven't been able to find a lot of rings to reference. The rose gold worries me because I just wonder if it's just a phase I am going through where I love it. And maybe I will grow out of it where as I have loved the white gold and platinum look for a long time.
Ahhhh help! If you have any advise or pictures or opinions I would love to here them.
Here are some pictures of the stone. It's a little over two carats (7.5mm x 6.7mm with a 5.3mm depth).
Thanks everyone!