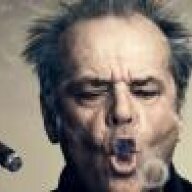 Joined

Oct 6, 2015
Messages

56
We have found the perfect center stone! It is a 2.17ct blue-green montana sapphire. It is a cushion cut. Measurements: 7.5mm by 7mm with a depth of 5.3mm. Now I am trying to figure out where to get the setting.
http://postimg.org/image/y5b7qol4j/
We have agreed that we both like 14k rose gold. The color sets off the color of the stone nicely. My significant other bought us right hand bands which we will probably end up getting resized for wedding bands some day.
For the setting, we are looking for something dainty. We definitely want a halo, definitely want diamonds paving the band, we don't like when the center stone sits high in the setting, we don't like when the side view has too much going on but we also don't like when the center stone looks like it was just placed on the band, and we like when the band splits into two (split shank) coming up to the halo. We are looking for simple and dainty. But we also want the stone to look like it belongs in the setting, that it looks like it was made to be there.
Based on what we have read and advice from friends who have purchased engagement rings we were leaning toward hand forged. I am just looking for input from all of you knowledgeable members. Do you feel that it should infact be hand forged or would another option be better? And if you have any suggestions on what vendors I could have this ring made in 14k rose gold that would be extremely helpful.
I have requested a quote for the VC ring below from VC in 14k rose gold. I received a quote, but with 18k rose gold leading me to believe he does not offer a 14k rose gold option.
I have attach a picture of the center stone in the link above. And a few rings that show what we are looking for. We like most of the
Victor Canera
ring, but we think the side view is a bit too much. We really like the daintiness of the other ring and the side view. We do prefer the eagle claw prongs in the VC over the rounded ones in the other ring.