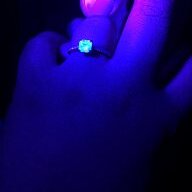 Joined

Aug 4, 2015
Messages

63
Hi All,
I had previously posted several months ago that I had purchased a small cushion cut diamond from
BGD
. Since then my girlfriend and I have been tossing around ideas for the perfect setting that would make both of us happy which was a point she made very clear was important to her. We considered saving in the long term for a setting we had seen from LM, but in the end we agreed on a custom made three stone setting from
BGD
with half moons.
We sent
BGD
an email with our ideas, and they gave us a quote for what we had down on paper, since then we have browsed through PS and found one specific ring we both really liked - JuneRose's three stone trellis. We also found this particular setting already in
BGD
's inventory:
http://www.briangavindiamonds.com/engagement-rings/three-stone/trellis-with-sidestones-5558
Between the inspiration ring we found on PS and the setting from
BGD
's inventory, we feel that we can finally see what we wrote to
BGD
coming together. Both of us however, have never worked with custom settings, we are trusting
BGD
's staff (particularly Jamie) to guide us in the right direction. So I wanted to ask all of you for an opinion based on what they suggested and our questions/concerns.
- Our center stone is 0.69 ct
- She likes graduated pavé's, from larger melee to smaller melee down 75% of the shank, what would be an ideal pavé style? (micro, channel, etc?)
-
BGD
suggests 0.50 ct half moon sides for a total combined weight of 1.69 ct; would this be proportional to our center stone or should we try to reduce the carat size of the half moons?
- She has small, petite fingers, size 4.75 - what would be the ideal width for the shank?
- What is the general consensus about euro style shanks based on comfort, durability, etc? I personally like the look, but she is on the fence at this point.
At this point I guess I'm just looking for some good, sound advice in terms of all the thoughts/ideas/her style I have gathered so far. My ultimate goal is to make HER happiest. We have talked extensively about how excited she is for her engagement ring, and it only makes me even more anxious to get this setting right, she has repeated over and over that she wants ONE forever setting, no upgrades at all.
Any comments, advice, general thoughts are greatly appreciated.
Thank you so much!