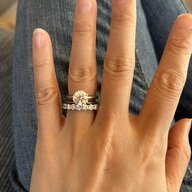 Joined

May 29, 2019
Messages

74
I picked out my original engagement ring with my now husband from a B&M store. We didn't do much homework on diamonds as I wasn't very into Jewelry at the time. It was a 0.72ct round solitaire in a four prong setting paired with a delicate diamond eternity band. I loved it. It was simple yet classy. Very good cut. Sparkles nicely. I could even see the arrows. Months into it, I noticed some visible carbon inclusions near and under the prongs that was quite disturbing to me. We went back to the store hoping to mini-upgrade it to a better quality but similar size stone. During that time, I had also done quite a bit research online to educate myself on diamonds. I eventually decided to shy away from B&M stores and hold off on upgrading. I wanted myself to earn the upgrade by a milestone year to make it more meaningful.
During that period, I came across PS and discovered
WF
ACA
. I decided to upgrade my small pair of B&M studs as a test drive. We purchased a pair of I VS2 0.623 ctw
ACA
studs. They are wonderful.
Five months ago,we celebrated our five year anniversary, we were ready to upgrade but COVID hit. Being a conservative couple, we decided to wait to see how COVID might impact us. Luckily, we have both been employed through COVID. Our area hasn't been hit very hard either. In a way, I am glad the upgrade was delayed a bit because we had a little more savings. We ended up splurging from 1.25 ct to 1.5 ct to celebrate my recent MS graduation and our second child due in early November. I am glad that this stone will very likely be my forever stone that I can wear for many years and eventually pass it down to one of my girls. How special! Coincidentally, after we made the purchase, we realized that the diamond was certified on my husband's birthday. Perhaps, it was meant to be ours.
So here she is. Introducing my
WF
1.591
ACA
H VS2 set in semi-custom
WF
Tiffany setting.
Depth % 61.5
Table % 55.4
Crown Angle 34.5
Star % 50.0
Pavilion Angle 40.8
Crown % 15.4
Lower Girdle % 78.0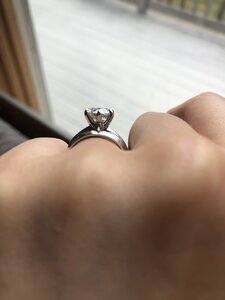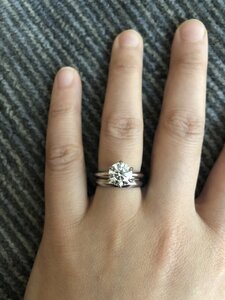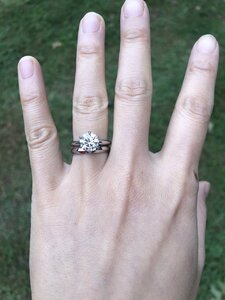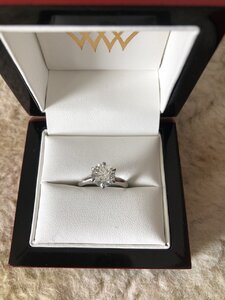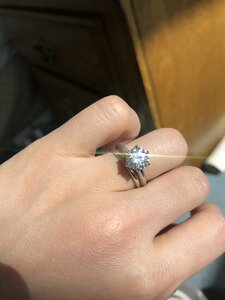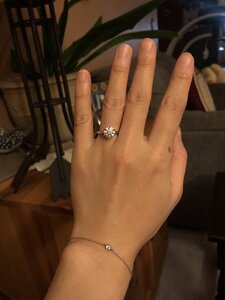 With my studs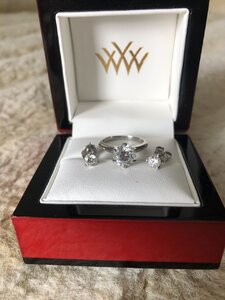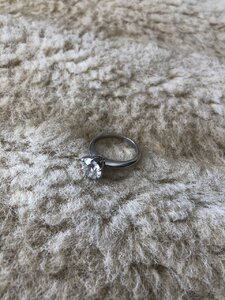 I don't take very good pictures. Thank you for letting me share my upgrade with you.
Last edited: