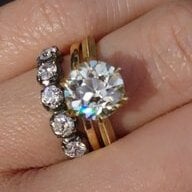 Joined

May 8, 2014
Messages

817
Chrono|1442921224|3930486 said:

Wow, that is amazing. Just seeing the progress is an eye opener as to how much detailed and fine work is involved. Any updates as to the estimated completion date?
Hi Chrono! Seeing the progress pics just left me in awe. The ring is done! Not sure exactly when, but Tom sent me all of this and shipping details yesterday. It should arrive tomorrow.