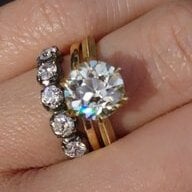 Joined

May 8, 2014
Messages

817
Hello fellow CS PSers,
I wanted to share my journey with this upcoming ring project. I just sent out my stone to Tom at sevenfingers.com today. He has a pretty unique way of working so I thought I would start a thread to let others who might be interested know how he works. Kismet had an opal ring made by him and there is some info from her thread too, but I could not find anything more current.
[URL='https://www.pricescope.com/community/threads/opal-ring-from-seven-fingers-jewelry.166336/']https://www.pricescope.com/community/threads/opal-ring-from-seven-fingers-jewelry.166336/
[/URL]
I got in touch with Tom through his website back in July and we have mainly communicated through e-mail. I did get to set up one phone call with him to go over the highlights of what I wanted. I e-mailed him my inspiration pics too prior to the call. After the chat, he e-mailed me examples of his work that were not listed on his website to narrow down my likes and have an even better idea of what I wanted. I told him that I do not have a deadline for this ring and to just fit me into his schedule where he can. He gave me a price range for the cost of the ring through e-mail. He told me to send my stone to him in early Sept. and that the ring will be completed in two weeks after he receives the stone. He still does not take any money upfront and I will only pay after receiving the finished ring, if I love it.
A recent post this summer by a fellow PSer in SMTB (I forgot the thread, but it was about gold jewelry) reminded me of him and that is why I decided the time was right to finally try and set my stone by him. I have been trying to figure out who was the right person to take on this project and am very grateful to that PSer for the reminder. Also, I love Van Craeynest and he used to work for them. I have a jade ring that is in a carved gold setting and wanted something along those lines so this just seemed like the right aesthetic that I wanted for this stone.
So the setting will be a double bezel and have a freeform lotus flower theme. I decided on that prior to rereading about Kismet's ring, so maybe she did have some subliminal influences on that, who knows. I just know that Sally of HOW's settings were keen in my thoughts. It will be made in 18KYG with possible accent stones that will complement the look. I did ask about 18KRG, but he advised that YG would be best for my stone, which is definitely fine with me.
As for my stone, I am finally at the point where I can set it properly after finding it again. I had it stored away, so it was a nice surprise to see it after all of these years. This star ruby was a gift from my beloved paternal grandmother that has passed away 19 years ago now. I still miss her dearly. Below you will find pics of the stone, which was hard for me to capture the actual color of it though. It looks purplish pink to me and Tom referred to it as a star sapphire. I managed to get a cool fluorescence shot with the help of my husband.
I am so excited to see how the setting will turn out!