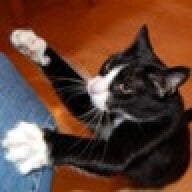 Joined

May 6, 2005
Messages

2,991
I found [http://www.sevenfingers.com]Seven Fingers Jewelers[/url] quite by accident, but I'm sure glad I stumbled upon it. This definitely has been a different custom experience for me. After reserving my completion date of Sept 30 (and this was just time he marked off for me in his calendar, I didn't have to pay to reserve a spot), I scoured the web for inspiration pictures. On Sept 12, I sent off my opal with the inspiration pictures and a list of likes/dislikes/needs. Today I received my ring. There was a phone call on Saturday when he had a question about accent stones. So no CADs, no drawings, no nothing. This was not a surprise, btw, because this is how he told me he operates. If I wasn't happy with his design I just send the ring back, he removes my stone and returns it to me, not charging me anything. His rationale is that he would just cut another stone to fit and sell it anyway. So anyhow, my point is if you need a lot of control over a custom project, this is not the vendor for you.
Anyhow, on with the pics. The opal is an Australian semi black of about 2.5cts.
Lotus flowers were one of my inspiration pictures
love the double mille graine around the stone
I love his maker's mark. Apparently it's his own hand prints... he lost 3 of his fingers in a farming accident when he was a kid.