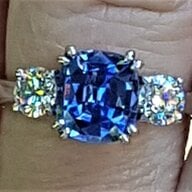 Joined

Apr 5, 2012
Messages

723
@diamondhoarder

Since you're returning the diamond, I'll chime in with a conjecture as to why you find it so unexceptional: the diamond has pronounced strain which negatively hampers the light performance of the diamond.

In the video you posted you can clearly see the strain lines running from 10 o'clock toward 4 o'clock (top left to lower right). The strain is caused by dislocations in the the crystal lattice.

When the light hits these dislocations it causes the light to split (birefringence is the technical term) and it simply results in fuzzy, mediocre light performance when the diamond is not blasted with light in a lightbox.

All diamonds (mined and man-made) have strain in the crystal; however, CVD diamonds can have much worse strain (and worse light performance) than mined diamonds if the seeds are of poor quality, or disadvantaged CVD reactors are used to grow the diamonds.

Personally, Asschers are my favorite cut and my first impression of your chosen stone was quite positive (similar assessment to you), but once I saw the stain in the video I would have immediately rejected the stone for the same reasons you chose to return the stone.

The last time I checked 0.37% of lab diamonds offered to us were Asschers, so finding a good one is quite difficult. All the best with your search!
That's really interesting, and not something that I noticed. I have never heard of strain before - is this different to striation? I did notice some slight unusual texture when viewing the back of the stone on the video, although I was unsure if that was a polish issue or possible striation. Your explanation would certainly explain why the stone was a let-down despite its promising specs. I clearly have a lot to learn about lab diamonds!
@Ada Diamonds CEO
Thanks for your very interesting post about strain. As you can see from the subsequent comments people are interested to learn more. Could you answer a few of our questions please if you have a minute? Is strain the same as striation?