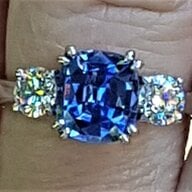 Joined

Apr 5, 2012
Messages

727
I got really fed up of looking for a decent asscher in the size I wanted with the right specs and a really great cut, without breaking the bank.

And with all the financial uncertainty around COVID as well, I have been cautious about a big purchase. Ive been looking for just the right stone for years, and never quite hit the jackpot.
Anyway, it occurred to me recently that my perfect asscher doesnt have to be a mined diamond. I have other mined diamonds in my collection which I love, but maybe my quest for an asscher might be better served by going down the lab diamond route. The big problem I have found with mined asschers is that they all seem to be so bottom heavey, which messes up the light return and makes them look small for the weight. And also the pavilion angles are often very strange in order to save weight, which also causes light performance problems and an unattractive profile view. But it occured to me that with lab diamonds, the cutters may be able to prioritise beauty and performance over weight retention because the material is far less expensive to begin with.
It turns out that there are some really bad ones out there, and a few really nice ones. I managed to find one with 5 pavilion steps just like a Royal Asscher, and it looks good from what I can tell from the video. So its on its way to me next week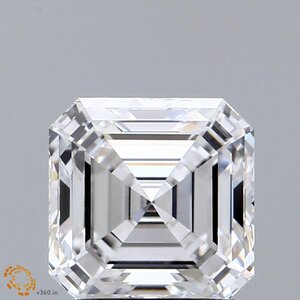 Here's the video:
I'm trying not to get too excited because this asscher has to tick ALL of the following boxes, and no other asschers (mined or lab) have managed to achieve this yet within budget:
* pleasing shape - I prefer wide corners and a 1:1 ratio (this one has slightly smaller corners that I would have ideally liked but I could compromise on this if the other boxes get ticked)
* Excellent light return from all areas of the stone, every step must light up as it moves, no "grey box" area of leakage inside the table that so many asschers have, plenty of coloured light return across the stone as well. There is no ASET for this diamond but I have my hand held scope to help my evaluation once the stone gets to me
* Perfect step pattern of evenly proportioned steps from the girdle right to the culet, with each step flashing on/off as the stone moves
* Perfect "windmill" effect with similar angles in the cut corners of the crown facets continued down through the pavilion facets - lots of asschers lack this aspect of symmetry
* Little or no windowing when the stone is tilted off axis - I'm not sure if this is what might let this diamond down
* At least 4 pavilion steps (5 was my ideal) to create additional scintillation - I prefer smaller and more numerous flashes than fewer big blocky flashes
* Bright white appearance (G colour or higher) and eye clean
* Pavilion and crown facets to be evenly spaced, and with pleasing angles so that the side profile does not show a pavilion bulge or an overly flat looking table, nice crown angle
* Good face up size for the weight, large enough to appreciate the effects of the stepped facet pattern - for me that's at least 6.5mm
* It must "speak to me" when I see it in person, it needs to be lively and have the perfect dance of light across the facets.
So at least my expectations are not too high for this one........


Last edited: