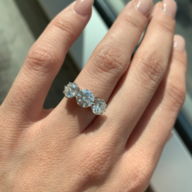 Joined

Sep 28, 2020
Messages

48
Ohhh my goodness, what a BEAUTIFUL ring!! I love the basket/prong design you went with!
Congratulations!!! This is beautiful!!
Beautiful ring. I like the 3 stone in almost same size look. Enjoy it!
Utterly beautiful! Perfection!
Lovely! I adore the old world proportions of the size to center diamond. Its dreamy!
Swoon, love the yellow gold
omg this is gorgeous! I love the edwardian style, and with the yellow gold band---SWOOOOOOOON
Absolutely stunning. It looks beautiful on you.
It's beautiful! He did a great job.
What a gorgeous ring, and it looks stunning on you! Thank you so much for sharing it, and congratulations on your engagement!!
What a beautiful ring! Love the proportions and it looks fantastic on your finger. Congratulations!
Thank you all so much! I had no idea that so many of you would be so kind as to comment such lovely things about my ring! Y'all have made my week!