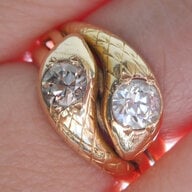 Joined

Feb 11, 2011
Messages

496
My new sapphire I posted about in the Catch All Thread arrived!
Here's what I originally wrote about it:
"Specs are untreated, 2.99ct, 9mm, very slightly included, and is a mixture of violet, blue, and a bit of grey. The seller mentioned a bit of a color shift/change: "Stone has a slight purplish color change from florescent to incandescent and natural light." When I asked where the rough came from, they said from either Songea or Umba Tanzania (it was part of a mixed parcel between the two places.) I bought it for under $200 from a seller on Etsy who cuts their own gemstones.
I'm really excited to see how it looks in person. There's also a 7 day return policy, so if it doesn't work out, I'll send it back, but I'm really digging the light sapphire color and I love color shifters, it doesn't hurt that it's a nice big size too.
Here's a link to the listing with more photos:
http://www.etsy.com/transaction/45101574
"
I'm going to post the vendor's photos and a few of my own. Unfortunately, it's been rainy the past couple of days and right now it's overcast with the sun setting, so I don't have that many good photos. It's light to dark lavender under incandescent (sometimes a light purple) and in sunlight it shifts to a pale to medium blue with a bit of grey. It's actually a bit similar to Freke's spinel, which used to be mine.
I think I got a great price on it too. There are a few visible small inclusions in the stone, but they're not too noticeable unless you look up close and tilt it a certain way.