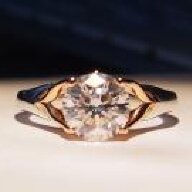 Joined

Jan 16, 2012
Messages

7
Hi everyone, I'm new here but LOVING the great pics and helpful info that everyone is posting! Now that I just got engaged, I can't resist sharing pics...
Here is my new e-ring - a Maevona Jura two-tone setting with platinum shank and 18k rose gold basket. It truly lets the light into the diamond and really sparkles from every angle! When I first opened the box, I was a little worried about the prongs being too thin, but after doing a little research and looking at all the fantastic pics on PS I feel like they are perfect. Not too dainty and not too bulky. I really love Maevona's work. I must have tried on every single style in the Scottish Islands collection. So pretty!
The rose gold basket **REALLY** makes the stone pop white and bright.
Here are the stone specs:
1.74 ct Round Brilliant
H Color
SI2
7.58 - 7.61 x 4.82 mm
Table: 58%
Depth: 63.5%
Crown Angle: 36.5
Size 6.5
Thanks for looking! If anyone else has a Maevona or two-tone setting I would *love* to see pics!