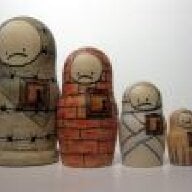 Joined

Feb 18, 2011
Messages

691
I finally got my
IDJ
eternity band and it is BETTER than I could have dreamed. It is PERFECT!!!
The stones are SO WHITE!!! I was worried that next to the
ACA
melee in my e-ring and my E color stone, that it wouldn't look good. I have been staring at it for days now and it looks just as white and sparkly (if not more) in ALL lighting.
IDJ
has honestly out done themselves. And as usual, Luann has been a doll!! I ordered the ring and it was ready a week later.
It's size 6.5
Made with 10 pointers, 21 stones, 2.10ctw
F-G
SI1 (completely eye clean---can not see ANYTHING!! Even looks clean with a loupe)
Perfectly cut stones--can even see arrows (thanks to the posters who taught me about them when I bought my Huggies!)
Set very low (I asked her to make it like Dani's)
As with my Huggies, It's upgradable. 100% of purchase price. I will eventually upgrade to one made w/25-30pointers

Sorry about my photos. I tried but I just can't take GOOD photos! I will get a better camera soon and try again.