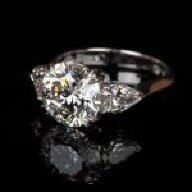 Joined

Feb 18, 2013
Messages

570
Since PSers were so helpful with suggestions on my various projects recently and CAD input, I thought I would share with you all my new goodies from Brilliantly Engaged!
3.25 ct. E-Ring Reset into a Solitaire (I SI1)
: I upgraded this stone a few years ago and had it set into a SK 3 stone with pears, but it just never really made my heart sing. Sometime after that, I tried on a solitaire while helping a friend pick an ER. I never had tried one on before

and that started my solitaire LUST!!! I held out for a couple more years to make sure I really wanted a reset and finally decided to move forward this spring. Deciding on a 4 prong vs. 6 prong was challenging, but after trying on a 2.5ct 6 prong solitaire at Tiffany's, I fell in love! I have always adored Valmanin's ring from BE and I knew I wanted a similar basket. I actually got a quote on this ring a year ago but I was still hesitant on 6 prongs! Thanks Valmanin for your beautiful design!!!! BE Ring: "Dina" inspired.
When the completed ring was shipped and I opened up the fedex box (in the fedex parking lot of course

), I actually teared up a bit when I put it on my finger. It was exactly what I wanted and it made my heart sing!!! The claw prongs are so discreet which I love and the profile adds the perfect amount of uniqueness for me. And the diamond just pops…I swear it has grown in size in the new setting!! I wanted a flush fitting wedding band, so the donut is 3.2mm and the shank is 2.3mm. I actually adore the setting on its own, but I have a couple of wedding rings I have my eye on!! Size: 5 ¼ loose.
3 Stone RHR
: I had talked to a number of vendors on this ring (both locally and PS vendors) and looked at a bunch of different styles and proportions. Ultimately, I decided I felt most comfortable working with Chris on this project. The ring is inspired by a Stuller setting I saw locally, but lower set with claw prongs. The center diamond is 1.01 ct I VS2 (acquired locally through a trade-in) and the sidestones are .33 ct. each I SI1 (GIA certed and sourced by Chris). It is perfect for an everyday RHR and I pretty much have worn it everyday since I got it! Size: 5 ¾.
3.05ct. Earring Studs Reset
: I was having drooping issues with my old martini settings and I talked to Chris about doing the reset. They were originally going to use a stock setting, but they ended up doing a custom 4 prong to ensure the diamonds were low set (no extra charge to me). I really liked my La Pousette backs, so they re-used my posts and backs. I probably will get the posts replaced at some point and go to standard jumbo backs, but in the meantime the reset helped the drooping tremendously. The custom earring baskets were done beautifully!
Chris at BE was very responsive and easy to work with during the process. Even with multiple projects and CADs going at the same time, communication was very smooth and he kept each of the projects moving forward without a hitch. Chris even got same day sizing beads put in one of my rings while I was in NY, so I at least had one piece of bling to wear while doing these projects! The earrings took about a week and the rings were less than 4 weeks to complete. I was extremely happy with the customer service!!
I decided to post them all together, so sorry about the pIcture overload!