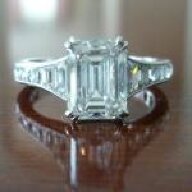 Joined

Jun 27, 2010
Messages

164
Hi Everyone!
I am usually very shy about doing reveals of my jewlrey but I had to share my latest creation with you all~~~ I am so excited!
First the story:
About 15 years ago my husband gave me this YG 14kt gold tennis bracelet. It had 46 G/H-VS diamonds. I loved it when I got it but as the years passed I never wore it. After seeing a friend's diamond bangle bracelet a year ago I decided I needed one also!
In the meantime I had worked with Luann on a few projects at ID Jewlery. I met her and Yekutiel in person while on a trip to NY not long ago. I decided to ask them to make me a diamond bangle bracelet using my diamonds from my exsisting tennis bracelet. I wanted white gold and I knew I wanted the dimensions to be about the size of my WG Cartier Love bracelt. I drew exact sizing patterns (oval) and Luann and I talked about design, clasps, etc.
ID Jewelry
made a custom bracelet to fit my diamonds and size requests. I purchased 15 more diamonds (1.38ctw) from Luann to match my exsisting stones. I am in love with the final product. I am so excited that I used the diamonds from a gift from my husband and now it is updated to a bracelet I can wear everyday..... I cannot say enough about
ID Jewelry
. They are trustworthy and dependable. On top of that they do beautiful work at a great price. Here are the before and after of my new 5.52 ctw diamond bangle bracelet!
BEFORE PHOTO OF TENNIS BRACELET: