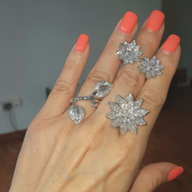 Joined

Oct 5, 2006
Messages

9,956
Hello everyone,
Thanks very much for helping with my last thread.
So here I am again, starting all over again.
I am focusing this time on an E-G stone, possibly an H, VS2-SI1, possibly an SI2 if it is very eye-clean. I'd like something like a 3.5 ish or slightly larger, providing it is not too expensive. To save money, I'd like to go with strong or medium blue fluorescence, provided it doesn't impact the stone negatively (I am hoping that it will give the stone that extra "crisp water look" - as posted somewhere in a recent thread), though a stone with no fluor or faint fluor would be considered also. My ideal would face up very white and no tint should be visible from the sides. Cut obviously is the most important. My budget is around $40-55k, preferring to spend less rather than more

.
I hope to go with a reputable vendor that has an upgrade policy, though this is not absolutely necessary. I've been in touch with
WF
but currently they don't seem to have an
ACA
or ES that meets my requirements.
GOG
does not seem to have such a stone in stock either. I am expanding my search to others like
Bluenile
, ERD and
JA
.
Any stones or vendors that you've come across or might want to recommend would be most welcome.
In the meantime, I've found these and would appreciate your input and comments:
(1)
http://www.bluenile.com/diamonds_details.asp?__fun_frm=i&pid=LD00414951&filter_id=0#grading_report
(2)
http://www.engagementringsdirect.com/loose_detail.php/session/3934407a1f722c55f56b3fdccab794b3/id/11556308/sz/150/premium/premium
(I think I'll have to call Mark to get more infor about this stone, eg. crown and pavilion angles,
ideal scope
image etc. Not sure if such info is readily available. Could someone who has bought from ERD enlighten me on this? Thx).
(3)
http://www.jamesallen.com/diamond.asp?cid=53&item=988844
(not sure if the faint fluor helps at all. I've read some posts on this forum that says it doesn't, which surprises me, as I have a G stone with faint fluor stated on the rept, and my appraiser says it is medium and he says this helps the stone to face up whiter

)