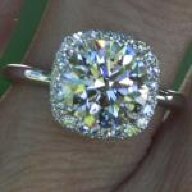 Joined

Sep 22, 2013
Messages

325
Re: My New 2 ct ACA & Victor Canera Emilya Cushion 2 Row Pav
Baroque I feel you frustration with the spinning issue using the keyboard most of the day. I know I will have the same issue come winter. I actually just ordered a few of Zina's (on Etsy) stacking bands to test out. I'm hoping 1 or 2 bands will help some.
Besides the fact that they are so elegant and classic, that was another reason I was considering a 3 stone with pears, I thought the spinning wouldn't be as much of an issue. I hope you find the perfect setting for your gorgeous rock too
Total bummer about the surprise stone and I would be hesitant to spend that $ on shipping as well. Maybe not worth it to do right now until you figure out if you are going to reset or not.
Thanks so much. I think there is always going to be thought of "should I of gone with X" seeing all these beauties on PS but I'm completely content...for now...ha ha.