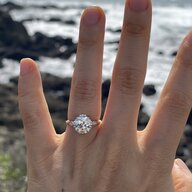 Joined

Mar 10, 2020
Messages

139
Without Pricescope I'm pretty sure my SO would've wayyy overpaid for a ring, so I'm super grateful for all the guidance and research on the site!
What did I learn?
1. I love old cuts, I was wavering between an OEC and an OMC and decided to go with an OEC because I love flowery facets, and I just couldn't seem to find the perfect OMC when I looked in person.
2. Working with more local and specialized vendors are the best! I love OWD, Jewels by Grace, Alex Park, and so many more eye candy IGs
3. I'm not color sensitive at all! I was a little worried reading threads on here about how people felt J or I can look a little yellow, but when I compared my M with high-color OECs, I really couldn't tell the difference, at least face up.
I was feeling pretty certain about going with Adam at OWD (who's as lovely as everyone says), and getting my setting done with DK, but I happened to make an appointment with Mark Broumand in LA and looked at some stones. He was lovely to work with, not pushy at all, and gave me a quote for the diamond and setting that came in just under my boyfriend's budget, so rest is history! He had several loose ~2ct that were I,J, and M, and I chose the 2.23M because I thought the facets were the prettiest. His settings work is really impeccable, even though I'm not doing a pave, his look very delicate and refined.
My SO put down a deposit just before California went into shelter in place, so the ring is a little delayed
but hopefully we'll be able to get it in May. But for the time being, I wanted to share the diamond! I requested a custom setting similar to Ring Concierge's Signature Antique in gold with a platinum head:
It's the first one in the gold ring:
https://photos.app.goo.gl/VKV53ZJ58rH5qzkv9
For people who are interested, here's the GIA report!
Last edited: