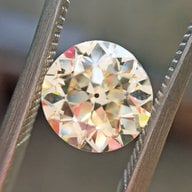 Joined

Dec 20, 2014
Messages

282
Thanks again to Gypsy and all for your help! The ring is here! I'm basically giving it a test drive today, since I happen to be the same ring size as my mother (4-ish).

I have to say, I was a little taken aback initially by how big it was when I opened up the box. "It's a lotta look," as Tim Gunn would say. And I'm not sure what my mother is going to think, since she's never worn a ring before, much less a honker like this. (Also, in a perfect world, I think I'd go back and have Mark scale back the corners and proportions, but that's a discussion for a later time.) But the hand engraving is just gorgeous . . . I kind of don't want to take it off now . . .
I will say: it's not "perfect," but for the price I paid and the turnaround time, I think I got a pretty good deal and good service from Mark T. Thanks again for all your help!