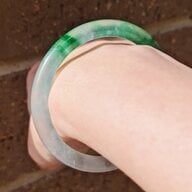 Joined

Mar 28, 2009
Messages

3,622
Date:

1/19/2010 12:22:02 PM

Author:

crasru

Date: 1/18/2010 7:53:18 AM
Author: Chrono
LG,
Are you Down Under? I'm a huge tennis fan myself and know the AO has started so when you said you'll be seeing Federer next week, I presume you must be there. Anyway, back on topic. The setting is very unique and bespoke.

Can you accept one more member into your tennis fan club?

Sorry, back to topic. I really like the stone and the setting. Sorry to ask, but is the jeweller reasonable or on higher end (price-wise)?

Just looked at the photo in the evening light. Wanted to drink it, it is so cognac-y.
Of course the more the merrier! I didn''t really like the brown colour at first but it''s growing on me.
I think Pal''s price is reasonable, it''s not outrageous, if you have something in mind you can send him a convo.
Here''s his website address
http://www.etsy.com/shop/pmgart