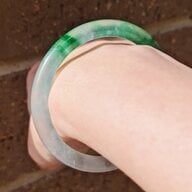 Joined

Mar 28, 2009
Messages

3,622
I meant to post photos of my Malaya garnet ring for several months, but with the Canon G9 at the repair shop I didn't have the means to. I got a compact camera today for taking photos at the tennis next week, or mainly photos of Federer.

So here's my newest ring and my review on PMGART, an Etsy jeweller, with the best customer service and with lots of creativeness.
The garnet is my second loose coloured stone purchase (my avatar), cut by Barry Bridgestock, 8.5mm in diameter. It's a delicious pink colour in the sun and in incandescent light, a rich cognac colour in energy saving light. I got the idea of setting the stone in a pinkish tinge metal, cinnamom recommended I tried contacting Pal of PMGART and see what he can do.
I emailed him a photo of an Eva Martin ring with a pink tinged metal, he went to work mixing different metal alloys trying to replicate the colour, but could not get close to the pinkish white metal depicted in the picture, eventually it was decided the colour balance of the photo might be off. I opted for 18k white gold and sent him my stone along with some transitional cut tiny diamonds. The whole process he was communicative, polite and easy to work with.
I had a vague idea of what I like, reverse shank and semi bezel. Pal came up with something really gorgeous and not something I could ever design myself, it was beyond my expectations. Add to that he didn't give up on the metal alloy and tried again, although it's not the pinkish white tinge, the metal colour goes really well with both pink and cognac brown.
So here's my ring, please excuse the bad photos and dry hand.