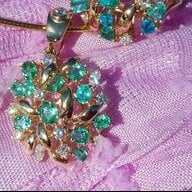 Joined

Jun 30, 2014
Messages

1,750
I'm trying to get disciplined about finishing some projects and wanted get some opinions on my latest one with Yvonne:
I am not a pastel person by nature but loved the brilliance of this 6.7mm malaya garnet. And while soft pinks/peaches don't look good on my skin tone, I thought the soft kornerupine color would be the perfect offset.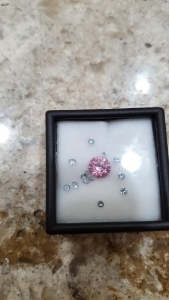 My original plan was a double halo - 2.0 mm interior and 2.5 mm exterior...but since it required a CAD, decided to go for a more custom look. After surging the net a bit, I came up with this which I sent to Yvonne as a concept photo (knowing it would need to be modified quite a bit because of the melee size)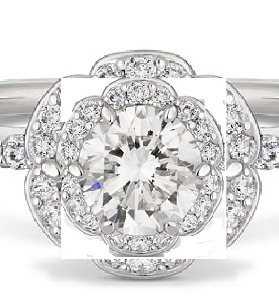 So working with Yvonne and the talented Brandy (who does her CAD work), we quickly agreed on this design (with smaller 1mm stones being diamonds).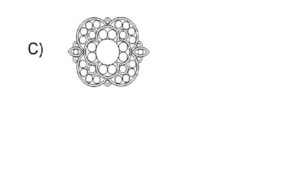 And here is the CAD which I just approved: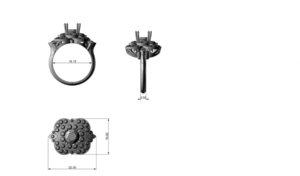 So while this moves onto casting, there are some decisions to be made:
Question 1: Rose gold or white gold? Originally I was going to do this in rose gold and I am thinking white gold would be better. I tend not to wear rose gold unless I want the metal disappears in the background and there is more metal in this style.
Question 2: Pink diamonds? We are short one 2mm kornerupine, so need to use more diamonds. Keeping in mind the actual color of the stones (top picture), should I consider pink diamonds (left) or all white? Other suggestions on the color pattern (admittedly, I am not very creative).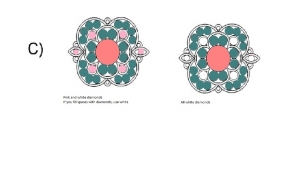 Question 3: Tiny Diamonds or Mini-Engraving? How would you fill in the metal spaces - with tiny diamonds or mini-engraving?