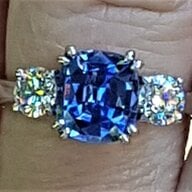 Joined

Apr 5, 2012
Messages

773
Re: My J VS2 Emerald Cut Diamond in its new halo setting
telephone89 said:

Beautiful! I need an Emerald cut now
This is the problem with PS - it creates diamond cravings!

bbziggy said:

Beautiful! It looks perfect on you!
Thanks bbziggy
Downsy said:

It's lovely! And it looks whiter than a J.
laurenk said:

Absolutely gorgeous!!! And sooo white!!!! Looks lovely on you! Enjoy!
Thanks Downsy and Laurenk. The diamond has medium blue fluorescence and I think that this has quite an impact on the color. I generally prefer F/G color so I wasnt sure how I would feel about a J. But in most lighting conditions it just looks white to me - I can only see slight tint in quite dim indoor lighting at night.
I think that the melee color being H/I/J makes a real difference to helping the centre stone look whiter as well. Here is a pic I took of my diamond in a solitaire setting with F color melee in the band. I think it makes my stone look quite tinted compared to the setting I eventually chose: