Joined

Jul 28, 2013
Messages

932
It all started with a parcel of square french cuts from Dolly (IG: xothebijouxbox). I bought the parcel last year a bit on impulse, intending to make a few bands with them. In fact, I had already sent off the parcel to Caysie (IG: cvb.inspired.design) and had gotten a quote for 3 separate bands. However, when I sat down and evaluated my collection, I realized that I already had a quite a number of french cut bands/rings and that what was really missing was a go-to, daily bangle with diamonds. I wear my Cartier love bangle in WG on a daily basis and never take it off. My only regret about it is that I didn't buy the version with diamonds when I got it 10 years ago (before the numerous price increases). I had been looking for an antique bangle with old cuts but my wrist is on the smallish side so sizing always seemed to be an issue (as you can't re-size a bangle).
Most of my french cut bands consist of elongated/rectangular FCs but I have one FC ring with square FCs that I had gotten preloved on PS from the lovely
@peppermintpatty
. I acquired it a couple of months after I bought the parcel and once I decided to go the bangle route, I wanted to duplicate the look of this ring. The love it to bits and I thought that its simple yet interesting design would translate well into an everyday bangle.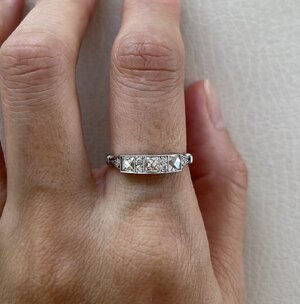 Here is my pot about the ring on the PS Treasures thread:
I am thrilled to have scored this ring/band from the lovely

@peppermintpatty

! It's a PS treasure that she originally purchased from

@virgo9

.

I have been waiting for FedEx to come by since it was "out for delivery" this morning and ripped open the package within 30 sec flat lol

The ring is absolutely GORGEOUS. I have a few rectangular FC bands but this is my first piece with square FCs. The three FCs are bigger in size than one usually sees in an eternity band and I love that I can see the facets without having to bring my hand to my eyes. The ring itself is a bit big and I will have to get it resized eventually but I popped on a clear plastic sizing adjuster for now.

I think it looks great alone, stacked with another band and also with my ER ring! I will be wearing it a lot!

Just for fun, here it is stacked with all of my other FC bands. A bit over the top to wear out of the house lol
I worked up a mockup and sent Caysie this: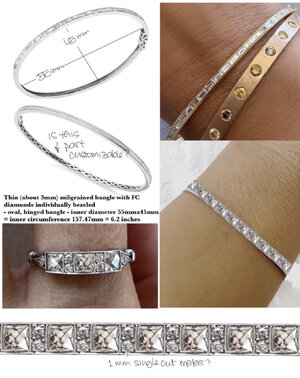 Caysie had her bench that does hand fabrications to make this bangle and I am so happy with the result.
The ctw isn't actually that much but it provides the perfect amount of sparkle for everyday wear without being over the top. It's so versatile and I can wear it with jeans or dressed up.
Specs:
Platinum with soft brushed finish
3 ctw - 24 french cuts (2.3-2.4mm, E/F, VS) and 50 single cuts
The french cuts have relatively high specs so it took some time for Caysie to source high quality single cuts to match.