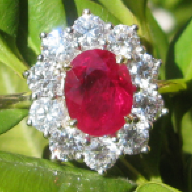 Joined

Aug 15, 2004
Messages

5,537
I got the message this morning that my earrings are done. They turned out better than I could imagine!! For those of you just joining in this saga, I had a pair of 9mm amethyst, 7mm blue zircon, and 5mm demantoid garnets that I wanted set in dangle earrings. However I couldn't find anything that fit my rather eclectic tastes, until I stumbled onto AdziasJeweleryAtelier on etsy. I love the pictures of her "swirly" pieces. When I contacted Adzia, she was happy to take on this project. Initially I planned on going with sterling to keep costs down, and as I saw these as costume pieces. But as I saw the CADs develop, I knew these were going to be heirloom pieces, and I would do an injustice to the beauty by going with silver, so I upgraded to 14k white gold. I must say, based on the pictures, I'm sure glad I did. I wanted to share the link with you so that you can see not only my earrings, but have a chance to see Adzia's other beautiful pieces.
http://www.etsy.com/listing/77621430/14k-white-gold-purple-amethyst-blue
My next plan are the same earrings in yellow gold with garnet, spess, and yellow sapphires. I've got the money ready, and as soon as I have the white gold in my hands and have a chance to assess them, I'm sending the warm stones on out! Enjoy the pictures.