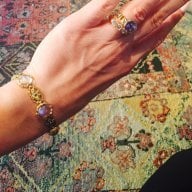 Joined

Apr 22, 2017
Messages

4,002
But now that we deal directly with the Mogok cutter that buys rough and cuts moonstones himself, I can always wait for another pair to set in YG.

They are still pretty pricey for moonstones although we go direct to the cutter. But not a shabby price for dwindling supplies methinks.
Both color metals are lovely for different reasons and work with different moon stones. The yellow gold earrings are gorgeous! It gives them a bit more punch.....whereas the white metal is ethereal. As will be your new rings! The prices don't surprise me at all. I bought my moonstone bracelet about 8 years ago...it cost me plenty and I'm sure it's just gone way up, and the very finest qualities are extremely hard to find. It's too bad because I've long wanted a moonstone ring. It might be a good long wait, involving major luck until I'm able to find one that I can afford, with equal quality as to make a set with the bracelet.