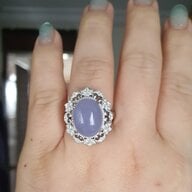 Joined

Oct 9, 2016
Messages

3,976
Hi All,
While I'm new to posting on Pricescope, I've been reading the forum for YEARS. But until my job transfer to Myanmar/Burma, I didn't really have anything worthwhile to post. I've been here over a year and probably have 1 - 2 years more to my stint here.
Being in Yangon this past 1+ years has really opened my eyes to the dazzling world of colours! However, it's really tricky getting (a) genuine, unheated Burmese (not Sri Lankan/African/Indian) gemstones here (b) buying them at a fair price and (c) having them set in decent settings. My first few purchases were duds. I was sold Brazilian purplish pink tourmalines passed off as Burmese ones, had jadeite set in less than 18k gold although I had requested and was charged accordingly and having silversmiths and goldsmiths mangling what I thought were simple enough designs. Just to name a few. After paying my "tuition fees", I finally found an extended family located at Gem Museum that are honest, have been in the business for over 15 years and willing to teach me on my purchases
Through one of their trader friends, I also get to have my stones set in Hong Kong settings instead of rough Burmese ones. That entails a waiting time as the stones are brought back to Hong Kong (and to their factory across the border) to be set but definitely worth the wait. Plus, you get genuine 18k gold and sparkly diamonds. Bearing in mind that the stones are native cut and uncalibrated, some customisation is often necessary. Meanwhile, I continue to do my market research and go round to other shops to get a sensing of the stones available in the market and the mostly ridiculous prices expected. Good stones are scarce. Honest sellers scarcer (like having kyanite being touted to me as sapphires with a nice blue colour). Most of the top quality stones are either over the border or else brought out of Myanmar to be sold to exclusive royal clients. In short, don't expect cheap for top quality in Myanmar since they can easily get more overseas, hence no impetus to sell low locally for top snuff.
What I've been purchasing are what I think are decent value, untreated stones with colours and cuts that speak to me and with acceptable flaws that I think can be masked in a setting. Problem with a magpie like me is I tend to go for variety rather than settling on a few "investment" pieces. I've seen, through their higher end trader friends, a few sapphires and rubies of the right cornflower, royal blue and traffic-light red silky pigeon blood to silk-less pigeon blood rubies. But to be honest, those sizes and prices are out of my budget
With that preamble out of the way, here are a few of my coloured bling blings, starting with a blue sapphire cabochon ring