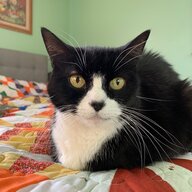 Joined

Aug 14, 2018
Messages

5,036
Well I am over the moon! For my next bling project I started putting away funds for what I thought was going to be a diamond stud upgrade, but then I started thinking that if I were going to spend that amount of money, that I want to be able to SEE it, and that an even larger engagement ring is what I should do. I have a 2 ct oec with baguette side stones, but there was one ring that I had been eyeing for almost a year. After putting some more funds away and trying to sell my current OEC, my husband just said to go ahead and purchase the ring I had always loved despite not having sold mine. When I went to do that, it was already sold. I think I probably missed it by a few hours. That ring had about a 2.5 carat center stone and was gorgeous. I was crestfallen. So that plan became to wait until my current ring sold, save more, take my time, get input from the forum, do it right. But noooooo. Because when have I ever had patience?? A few weeks after TRTGA (the ring that got away), I saw the most amazing ring on Diana's IG (SinCityFinds). It was a 3.98 carat OEC with an amazing facet pattern, L in color with faint fluor, 9.82x10.19x6.27. I thought "wow that is amazing but no way." But when DH saw it, he was in love too and said to go for it. She arrived Sunday and I cannot stop staring at my finger! Those beautiful facets, those pastel flashes! Also, a HUGE bonus – Diana's caption said it was in a "designer setting" but didn't name the designer. Well I was very excited to learn that it is a platinum CVB "Olivia" setting!
I never in a million years dreamed I would own a diamond of this size. I am so thrilled. I cannot quite capture her beauty in photos, though I try. I need tips from
@Tourmaline
and
@missy
to help me. Also special thanks to
@lulu_ma
for listening to my many, many messages! For now, I will upload a few photos, but first videos, which capture her better:
https://www.instagram.com/p/CTx70__AgvX/?utm_source=ig_web_copy_link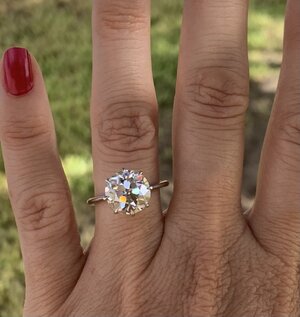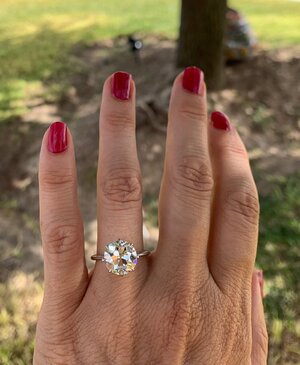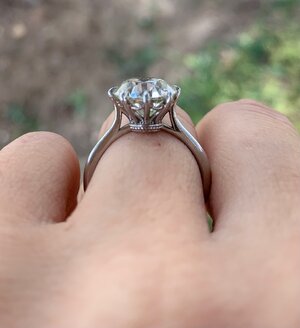 For some reason, when I take my phone case off, I can't get the facets as well - putting the case on reflects the orangy color too much but you can see the pattern.