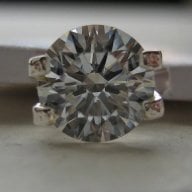 Joined

Jul 2, 2005
Messages

247
Date: 1/19/2007 9:25:09 PM
Author: kcoursolle
It''s beautiful!!! Face up it''s absolutely fine, so maybe just put it in a basket settinng or something that doesn''t show as much of the side as a typical four prong basic setting. Don''t worry though, most people don''t really view or enjoy diamonds from the side view...the questions is really whether the side warmth is going to bother you.
Thanks so much!! The colour doesn''t bother me all that much, and I know that the side view won''t be exactly what i''ll be staring at all the time!
As for the setting, we are deciding between either the superbcert tiffany replica or a custom ring like lynnb''s fishtail pave but we''ve literally been going back and forth for a long time. We were wondering whether or not lynnb''s could be made into a 6 prong because the bf loves the six prong look.
We are going looking for ideas tomorrow so we''ll see!
This is all so exciting!