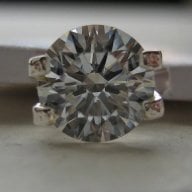 Joined

Jul 2, 2005
Messages

247
ETA: I don't know why the pics are so big...sorry! Also...the title was supposed to say "Question for "J" wearers"
Oh my goodness!! I can't believe that the diamond is here! Phew! We were so worried about the shipping/FedEx pickup in the states etc...but everything was smooth as can be!!
We drove to the FedEx station and picked up the medium sized box and sat in the car. Of course I let the bf open the box, since it was his purchase and I felt lucky that I was going to be seeing it at all! So he opened the first box, to find another smaller box. In that smaller box was an envelope that contained the certificate etc and there was a jewellery box. BF opened the box so he could see it first, and then he showed me. OH MY GOODNESS! It was so beautiful! It was too funny though, we were both so paranoid, looking over our shoulders to make sure no one was watching us! ha!
So I was able to look at it for a little bit today and took a few pictures of the stone.
I absolutely love it! It is perfect and HUGE! My bf loves it too, but is concerned a bit about the warmth from the side. Granted it isn't much, but it is noticable if you look.
He is wondering whether we can get a premium cut with a higher colour and bigger size for the same price...his mother has a beautiful ring that was bought 25 years ago in Antwerp that is stunning and massive, but according to her cert is a 'medium' cut. And now he is wondering if we went overboard with the Ideal cut? If anyone can chime in with advice that I could pass on to him that would be great!!
And now...pictures!