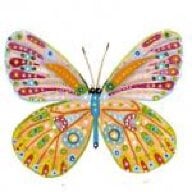 Joined

May 14, 2010
Messages

4,328
My OEC has been back and forth across the US many times for different reasons, each with stories that don't deserve the details here.
She's made her last trip back to me and now resides in a hand forged masterpiece by VC. He and I go way back to his early days when he had just opened his own design studio. I'd done 2 projects previously with him, this one was no doubt a pleasure. It took a bit on both ends to get to a final stage to move into production.
Victor made me feel as though my project was his only priority each time we spoke. His customer service was top notch. I wanted/needed a new appraisal for my ring and located one who ended up being 1 block over from him. He personally hand delivered it and talked shop/business while he waited for it to be done.
On to the ring now!
I had found an inspiration ring that I loved and asked VC to incorporate it with his style of design, yet be different.
I'm absolutely thrilled with the outcome, no more settings for my OEC!
Here's his website link to my ring:
https://www.victorcanera.com/rings/engagement/lillian-vintage-halo-with-three-petal-split-band
I'll post a few photos that I've taken but mine unfortunately do not do it justice.
Last edited: