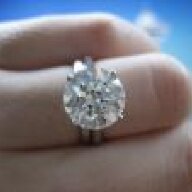 Joined

Nov 27, 2012
Messages

58
I just went to collect my 3.16ct ring and I am so excited right now


Well, it's still 6 months to go before I turn 30 next year, but I can't wait to have this 3-carat stone project done. Ever since I turned 29, I have been actively searching for a 3 ct + stone, to mark the beginning of my 30 something life. I have to say this is one of the benefits of buying diamond – it makes ageing a much more acceptable truth – how about a 4 ct when I turn 40, 5 ct when I turn 50... Not sure if I will keep doing this, but anyway I want to indulge myself this time.
It was quite frustrating at the beginning of the search because of my limited budget, but it all turned out fine when I found Miffy on eBay. I took train to meet the seller, Mr. P, who actually runs a diamond trading business in Leicester. Miffy was consigned to Mr. P from a wealthy family who inherited a divine collection of diamonds from their grandfather, and Miffy is one of them.
Miffy was described by Mr. P as an 'Early Round Brilliant', and certified by GIA as 3.16 ct, M colour, VS1, 9.31mm x 9.42mm x 5.86mm. It is somewhat in between an OEC and Modern Round Brilliant, so I guess it is a Transitional cut??? Anyone knows if I am right? On GIA certificate it only says Round Brilliant.
OK, pictures~~