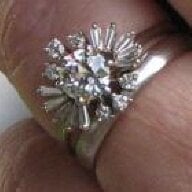 Joined

Jan 7, 2007
Messages

2,514
FacetFire, I adore your ring!

Can I request information on your ring? Is that done? I would not like to copy it (I do not have enough money in any case) but I would like to know at which place you bought your mounting and of which size is your superb diamond?
If my questions are too indiscreet, don''t hesitate to tell me...
Excuse my bad english... hope you can understand what I write ...