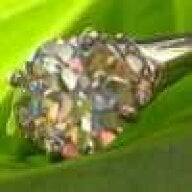 Joined

Jun 26, 2006
Messages

1,879
Hi everyone. It hasn''t been very sunny here, so I don''t have any sparkle/fire shots yet, but I took some handpics of my new e-ring that my sweet fiance gave me on Sunday night when he proposed. It sparkles like nothing I''ve ever seen, but unfortunately the pics aren''t turning out great at this point. It even has rainbows in it when there is no direct light! I''ll take some more pics when the sun comes out.
First, the specs on the center stone:
2.30 ct Old European Cut
8.47 x 8.49 x 5.06 mm
Color: I
Clarity: SI1
Depth: 59.7%
Table: 49%
Fluor: Faint Blue
Culet: Medium
The setting is a Michael Bondanza setting ordered through Pearlman''s in plat with approx. 30 points of I color pave stones.
(Sorry the pics aren''t better, but I promise more soon!)