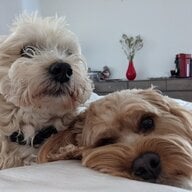 Joined

Jun 5, 2003
Messages

84
Hello everyone, I'm looking for inspiration for a unisex / men's e-ring/wedding band, with a diamond solitaire as the center of attention. For the purposes of this thread, I'm looking for designs that meet the following criteria.
MRB diamond solitaire style ring. It doesn't have to be a pure solitaire style, but I want the focus to clearly be on a primary MRB diamond. Halo's and sidestones are potentially OK. Pave on the band is ok, but there must be a clear standout primary solitaire, so eternity bands are out. Bonus points for designs without halo's or sidestones.
Diamond solitaire must be prong set. More specifically, the diamond must be mounted in such a way that no part of the setting touches the diamond's arrows anywhere on the girdle and table. This rules out bezel set, tension set, flush, bar, and channel set.
Overall style should be unisex or "men's". I am very flexible on how this is interpreted, but basically it mean's I'm not looking for a skinny ring. (At least I don't think I am, feel free to convince me I'm wrong.)
I'm guessing the solitaire would be somewhere between 0.5-1.0 ct, but feel free to convince me to go bigger.
. My ring size is ~8.5.
I've already gone through the
Men's Bling Eyecandy Folder
thread. There are a lot of great rings for inspiration there, but I didn't see too many designs that met Criteria 2 above. And, I think this forum deserves more than one sticky thread about different gender designs.
@Dancing Fire
@pk888
@D&T
@gregchang35
I can't wait to see what people come up with.