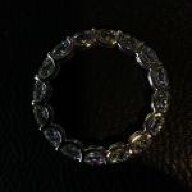 Joined

Jan 4, 2013
Messages

109
Hello pricescope community!
I have some questions that may seem to be all over the place—and I'd like some of your advice/feedback.
Recently, I've been seriously scoping out and researching the purchase of an eternity band. I've always loved the way they look—and even though I'm a man, I think I am going to push the gender norm, and go for it! Hey, if Nick Cannon wore one when married to Mariah Carey, why can't I... Haha.
Ok so here's a little about me— I am 32, size 7 1/4 - 7 1/2 ring— I don't work with my hands, so being rough on a ring is not a concern. I would like to wear it every day, and I am not super thin or heavy...pretty average frame. As for other jewelry, I always wear a stainless/white gold watch (Datejust II) on my left arm, and a simple black leather wrap bracelet with it. My style is not super flashy or over the top, but I do like things that are made well, and with great quality. I am not opposed to the eternity band being flashy and make a statement, but I also don't want it to be something that draws too much attention.
So here is where I am in the process.
-I know I want it to be emerald cut or round brilliant (even though those are two extremes).
-I am very interested in this horizontal emerald cut setting, but have never seen such a thing in real life... Have any of you?
-I know I prefer less metal to be seen, and if I go with round brilliant—I am pretty sure I want it to be shared U prong.
-I am confused at exactly how much brilliance I will miss with SI vs. VS stones.
-I know I want the tcw, between 3.5 – 5 max.
-My budget is flexible, I'd like to land between 4-7,500.
I've attached some photos of my top contending rings (even threw an asscher in there). Can anyone offer any advice/feedback/thoughts on anything from price to quality to retailers and I'd love to see some "real shots" of your rings if they fit a similar bill!
Thank you so much in advance!