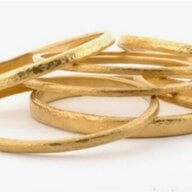 Joined

Jan 26, 2003
Messages

22,107
Princess Cut!
I have been here forever, but I have only bought round brilliant, and one pair of pear, stones in all my diamond buying years! (And I needed help with the pears!)
Andrey most generously gave me $1,100.00 in gifts for for allegedly being an asset to Pricescope and for hitting the magic 10,000 number of postings! Since I very much want to set a red spinel that I bought, I have been looking for diamond sidestones. At first I thought that I would go with pears or marquises, but my latest idea is to use two Princess cut stones in kite settings on either side of my oval spinel.
I have looked at the websites of some featured Pricescope sponsors and found one Princess cut diamond that I thought was worth running by you. From its dimensions it does not seem perfectly square, but I don't know if that matters. I will tell you what matters to
me
. I am looking for a D colored stone of about 1/2 carat in clarity that is no lower than VS2. I wanted an ideal or excellent cut stone that would sparkle. However, I wanted to avoid any stone with a chip or any inclusions that might put it in danger or be very visible with a loupe. (I saw some VS2 stones that had multiple inclusions and in the photos I clearly saw the inclusions without a virtual loupe. I have no idea if the stones were actually eye clean. How could I?)
This stone has symmetry and polish that are only, "very good". Are the proportions OK? I can't get everything and it is a VS1, which I like. The inclusions seem really minimal. The price is $1300.00.
depth 73.6
table 73.0
measurements 4.50 x 4.45 x 3.28
fluorescence medium blue
girdle medium thick
clarity VS1
polish very good
symmetry very good
GIA cert 6127574864
I am looking forward to your input! Thank you.
Deb/AGBF