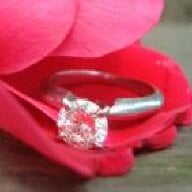 Joined

Jul 29, 2011
Messages

53
Hi everyone,
I have been lurking here for a few months now and just wanted to say thank you for all the great advice and real-life pictures on these forums. It can be so hard to purchase jewelry over the internet and, as you know, it's hard to find local jewelry stores that carry more unique pieces.
OK -- so a bit of backstory... I hope you don't mind.
My hubby and I celebrated our 15th anniversary last month. I tend to be pretty low-maintenance, so while I love looking at bling, I don't tend to wear anything unless it's super-comfortable and I don't need to worry about cleaning it, or taking it off when putting lotion on, etc. My original wedding set was very classic: 2mm platinum band, and .7 ct diamond (don't remember the specs, but it's eye-clean and seems pretty white to me) in a classic, platinum, tiffany-style 4-prong setting. Over the years, I stopped wearing the engagement ring on a regular basis. I didn't like the way it caught on stuff and just didn't like the feeling of the diamond sticking out (but I did still love the sparkle!)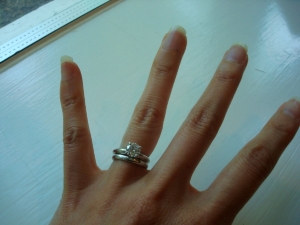 The 2mm band on its own was fine. The main problem with it was, no sparklies, and that width of band is a bit narrow for the length of my fingers.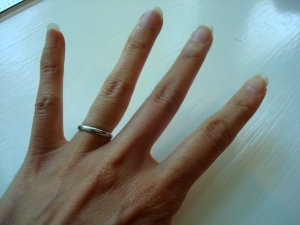 Nevertheless, that is what I wore for 15 years.
OK -- so fast-forward to our 15th anniversary. In the interim years, my husband had broached the subject of an anniversary band a few times, and I had always demurred. This year, I decided I was ready, and so started researching and shopping. We didn't have a budget in mind, but I'm pretty conservative with funds, usually, so I was looking for good pricing. I had two opposing images of what I wanted in my head: 1) something like the Tiffany etoile band (burnished diamonds in a plain band), 2) something really flowery, flowy and romantic.
The practical side of me won out initially (because of the low-maintenance factor), and I had this lovely band custom made for me by an
excellent seller on eBay
. It's 4mm wide, platinum, with 10 diamonds all the way around-- very comfortable, very contemporary, very low maintenance.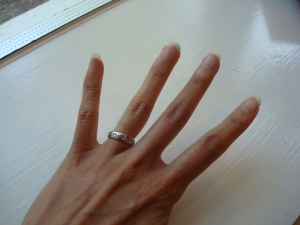 Well, I loved it, but there was still something unsatisfied in me. I love nature, and curves, and flowing lines and thought it would be so wonderful to have a ring that expressed that side of me as well. So I went ahead and commissioned another ring, one of the swirly ones from
Adzia's Atelier on Etsy
. For this one, I decided to go with 14k white gold and leave it unplated (still looking for ease-of-care, I didn't want to have to worry about getting the ring redipped). So that's this one: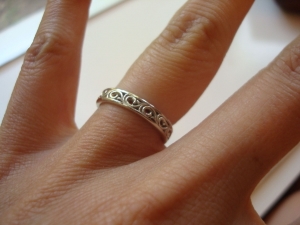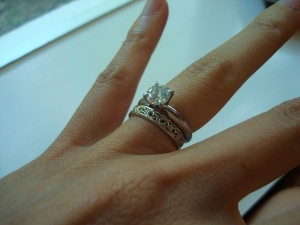 It ended up being a bit narrow to wear on its own, but pairs well with my engagement ring. I've since decided to send it back to Adzia to get it plated, as I think it will look better with my platinum pieces and be worth the extra maintenance.
In parallel, I discovered Beverly K and fell in love with many of her styles. I decided to see what my eBay wizard would charge to make a Beverly K inspired band and it was incredibly reasonable (the reason I didn't want to order directly from a Beverly K dealer is that in my size -- a 3 -- many styles aren't available, and if they are, they aren't returnable -- my eBay guy offers a 30-day return policy, no questions asked and return shipping included!). So, uh, I ordered another ring. It seemed that after 15 years with no anniversary jewelry, the floodgates had opened
That brought me this exquisite ring. I left this one unplated as well (it's 18k white gold), but am going to go ahead and get it dipped after all. It also turned out just a smidge big, so I can wear it on my right hand too.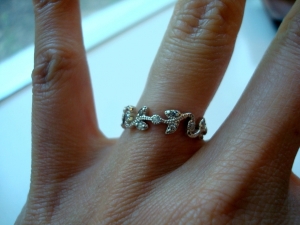 Finally, I had been trawling eBay obsessively and found myself drawn over and over to an antique eternity ring that was actually a size 3. It seemed so unlikely and rare to find a vintage ring in my size that I couldn't stop thinking about it. After weeks of consdering, I decided I had to see it in real-life.
The seller
had a 3-day return policy and I figured I could take advantage of that if the ring didn't seem right to me. Incidentally, this classic style, diamonds-all-around eternity band it what dh would have gotten if it had been entirely his choice. He's more into classic pieces (hence my engagement ring).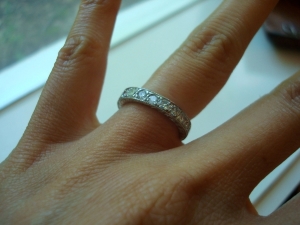 I received the ring... and fell in love. It's from the 1920's, platinum setting, with 21 E-F VS2-SI1 diamonds - 0.9ct total. I especially love the carving on the sides.
So I've gone from no anniversary bands to 4 in a month. I feel that I've gotten great value though -- for all 4 pieces, I am still under $3k.
My question / the advice I'm looking for, is whether these eclectic pieces look ok stacked together at all, or not? They are obviously all different styles, but the widths and thicknesses vary a lot too. Here are a few combinations I was playing with: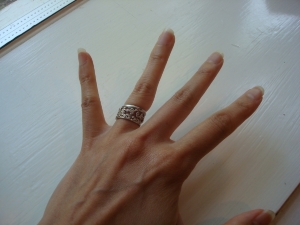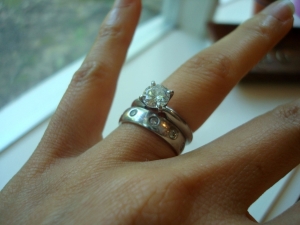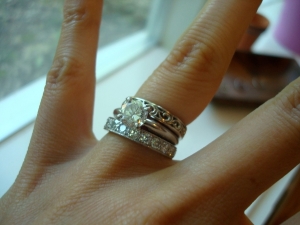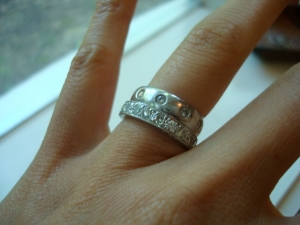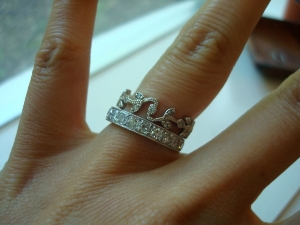 I also bought a few narrow CZ eternity bands (actually found them in size 3!) to add into the mix. If I like the way they work out, maybe we'll talk about replacing them with real sparklies next anniversary!
What do you think of the stacking thing and do you think any other combinations would work well?
Thanks so much -- I really value your opinions!