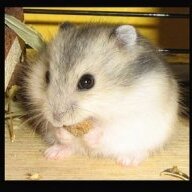 Joined

Dec 9, 2006
Messages

105
Hi! I''ve become totally addicted to these boards, and love all the dresses, rings, etc. I''ve been gazing at. However there was one issue that really bothered me that I read several posts on in my browsing/searching of old threads. I just had to say something about it and didn''t want to bump one of the super-old posts. A few people were talking about statistics that showed that couples that live together before marriage are more likely to get divorced. Using this as evidence that people who live together first are just simply more likely to have a bad marriage is crazy! There''s a very simple explanation. The type of person who absolutely does not want to live together even for a month before marriage very likely has some very strong moral convictions, likely because they and/or their family are very religious. So what''s a person like that going to do when their marriage goes sour? Will they look into getting a divorce? Probably not. Again, because of their really strong religious/moral beliefs.
I personally plan to live with my guy before we tie the knot.. and I absolutely want to. I think that if someone doesn''t want to move in with their boyfriend before marriage because they''re afraid the guy will "get comfortable" and never commit to them... maybe that''s not the kind of guy you want to be with anyway. Living together teaches you so much about another person. No matter how in love you are from dating them, living together day in and day out can show you sides of them you never had any idea existed. A friend of mine recently decided to move out of the apartment she and her boyfriend shared, because after living together for a year, she realized that he was completely incapable of picking up after himself, helping with housework, etc., even after she had talked to him and told him he needed to help out many, many times. She hadn''t realized just how bad/messy he was even after 3 years of dating while living apart. Can you imagine if she''d learned about this after marriage?
So... I''m all for living together first. I''m also sure that if I was married and my hubby cheated on me, I would want a divorce. I just wouldn''t be able to look at him the same way if he slept with another woman while we were married, and know I would be miserable!! Meanwhile, someone with really strong religious feelings about marriage & divorce might just grin and bear it, even if they were miserable. So, if that happened to me, I would be adding to the "living together first and later divorced" statistics, while they''d be adding to the "didn''t live together first and now still married" statistics.
Sorry-- this was a little long! Just wanted to get that out, and let all you ladies who lived together before marriage know that you
aren''t
more likely to have a miserable marriage. You''re just more likely to
get out
of a miserable marriage if that should ever happen. *knock on wood it doesn''t for anyone here!*
(of course, to each his own, and I don''t mean this to be offensive to those who specifically choose not to live together before marriage! Just saying that our chances of having a happy marriage are equal.

)